Apparently I have some sort of PTSD now, after so many iterations in vain trying to get TPS65131 to behave. But without a bipolar power supply, this project cannot be considered complete, so I started finding alternatives. Well, I don't really have to find, because when I did my teardown analysis of CEntrance DACPort Slim, I already documented its bipolar power supply:
Back then I didn't fully understand what it was, so I asked about this on Electronics StackExchange. But of course it is not a hack that happens to work — it's an established way to generate an "auxiliary" negative voltage from an existing boost circuit:
In fact, LMR62014 as used in DACPort's circuit is a pin-compatible part to LT1930. Apparently this works well, at least for stable symmetric loads. In my project, all analog rails are powered throughh LDOs, and the load is indeed nearly symmetric, as measured when powering off my bench supply.
PCB
With the TPS65131-fiasco still haunting me, I decided to go safe this time. Component picks:
Main boost inductor: A big one — TYS6045100M-10 at L×WxH = 6×6×4.5 mm. It boasts way higher saturation current and way lower DC resistance than I could possibly need. I think a 4×4 mm profile should do just fine.
Rectifier diodes: Any SOD-123FL Schottky will do; the less forward voltage the better. I used MBR230S1F-7 which I already have in stock.
Feedback: 0603 1% resistor; 0603 5% C0G/NP0 capacitor.
4.7 µF ceramic caps: 0805 5% X5R/X7R
CC1/2: Tantalum "B" bulk output cap. Aluminum is fine too.
FB1/2 (not shown on schematic): 0805 ferrite bead. Short them if you are lazy.
This is a reusable module, so I shared it on OSHPark. Note that it is deliberately not breadboard-friendly (but close enough) so that it fits the DAC main PCB.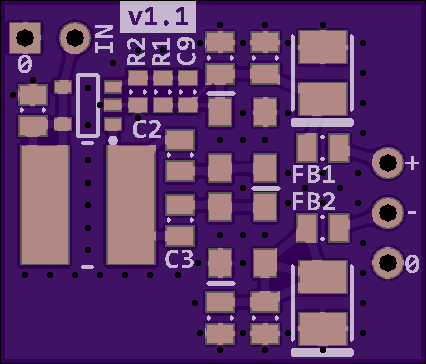 Test
It works!
Positive: (using 10 mV/div due to Rigol firmware bug messing up vertical measurements)

Negative: (you can see the messed up average measurement under 5 mV/div, but trigger pos is correct)

I think these are already good enough for powering op-amps since they have reasonably decent PSRR (at least in audio freq range). That said, I am still keeping the LDOs in between just to be safe.
Conclusion: End of the Beginning
I now have this copy plugged into my DAC-amp prototype (v4.2):
Not suprisingly it works. And at this point, all basic issues have been addressed. As I merge the DC-DC and LDO halves of the power board, the last remaining unsightly jumper wires will go away…
2017-04-07 EDIT: Merged power board arrives. Works beautifully.
Does this mean the project is completed? Well, recalling my original goal: "To achieve good objective performance within reasonable budget". I have not even measured the performance! But while my 8-bit scope is good enough for debugging, for proper measurement I need an audio analyzer, which I do not have and cannot afford. Without precise measurement, any further development would be blind at best — a complete waste of time. So sadly at this point I have to stop working on this project…
…and listen to some good music 😉
I will try to release design files after some extra field testing. Stay tuned.
2017-04-08 EDIT: Design files released in my Hackaday project page.